Commemorating publication of
'Fifty dramatic and other educational activities for lessons in elementary and middle schools'

(Meiji Tosho)(Closed)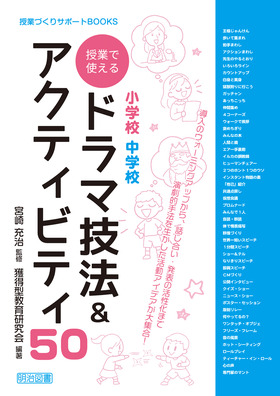 (Source: Meiji Tosho website)
Starting on 6 August, 2020 through 31 August, the SAOL presents a fair of books by the SAOL and Watanabe Jun at
discount prices
for viewers of the SAOL website. This limited offer is valid while supplies last. We apologise for any inconvenience this may cause you.
List (all items are in Japanese):
'What does it mean to be international?'
'Teachers: Directors of learning'
'Using drama as a means of instruction'
'Seventy warm-up activities for learning'
'Change the way you teach with the dramatic method'
'Educational presentations'
'Introduction to participatory activities'
'Fifty dramatic and other educational activities for lessons in elementary and middle schools'
'Exploring dramatic activities in education'
'Methods and techniques of education'
Procedures:
Place your order here (in Japanese only).
A confirmation e-mail will be sent to you. (Please insure you can receive Gmail messages.)
Your order will be delivered to you with a money transfer form.
Make payment with the form within two weeks of receipt.
A confirmation e-mail will be sent to you from another address as soon as we are notified of your payment. If you wish to have a receipt, let us know by answering the confirmation e-mail.
Notes:
Prices include tax and shipping/handling.
Please pay the transfer fee. The SAOL has an account with Japan Post Bank.
Your order can only be delivered to an address within Japan.
Click here for the latest inventory (in Japanese only).